Brands That Trust Us
Why Our Trade Show Displays?
You're in complete control of your display, with size, color, graphics, and fonts all being determined before your exhibit heads into production. We make it easy for you to customize, too. Our online form handles everything – taking you step-by-step from choosing the trade show displays you need to adding the artwork they'll display.
What happens after you send your artwork to us? Don't worry – you get a chance to see your trade show booths before you commit to your order. We turn your artwork into a digital "proof" image that shows what your exhibit will look like once completed. You get to make tweaks and changes to ensure your trade show exhibits look the part before they ship.
Trade show booths are big. Really big, if you order a 20x20-foot booth. With other suppliers, that means you have to worry about a huge shipping fee getting added to your total costs – not ideal when you're working to a budget. But we do things differently. Free shipping is available for every booth we create so you can stay on budget while getting what you need for your next big corporate event.
Why buy trade show displays in the first place? According to 81% of trade show event attendees, they can recall at least one of the exhibits they visited up to six months after the event ends! We make sure that your trade show displays are those they recall. You stick in the memory, and that means you have more chance of making sales.
Dazzling Trade Show Booths
When you're one exhibitor during an event that hosts hundreds, you can't rely on the same-old, same-old with your trade show exhibits. They need to pop. Sparkle. Dazzle. You need exhibits plastered in your branding that draw people in and stick in the memory. We make that happen with our customizable trade show booths.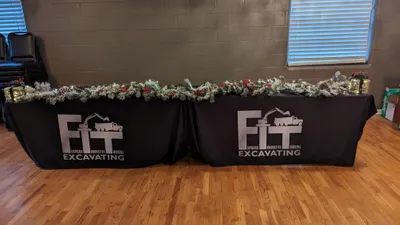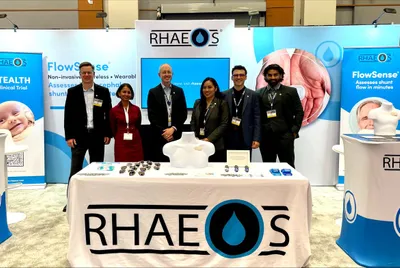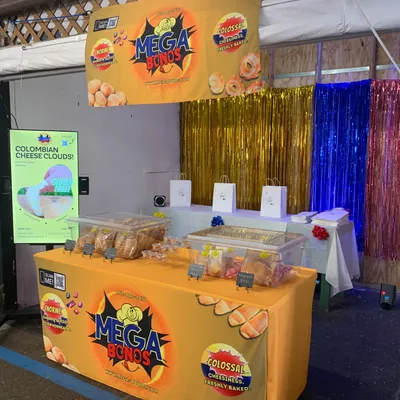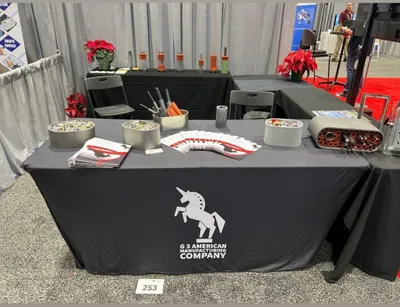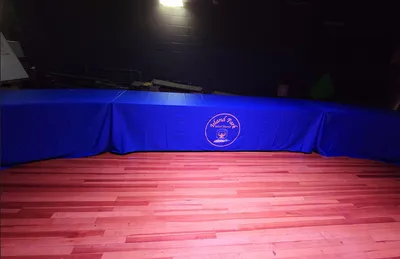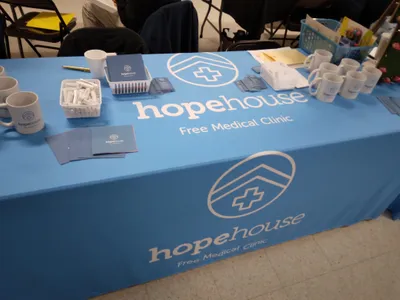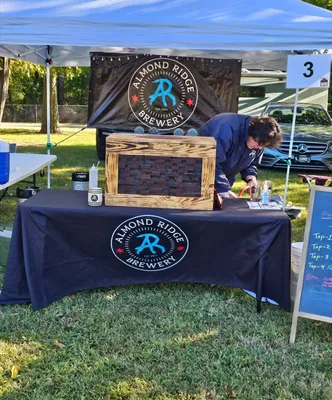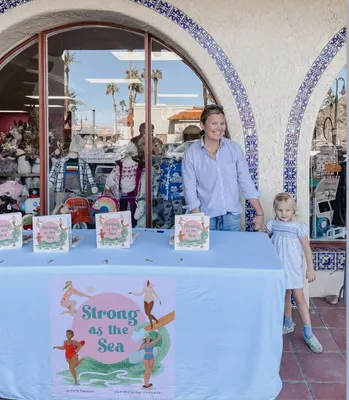 I like the quality and design of their displays. I highly recommend their displays for any tradeshow.
Hester Chevalier
Tradeshow Today provided us with a fantastic booth solution for our tradeshow. The customization options allowed us to showcase our brand effectively. Overall, a great investment.
Mara Racca
Ease of assembly and disassembly was a huge plus, saving us time and effort. The Setup Instructions was easy to understand and clear. I wouldn't hesitate to use them again for future events.
Mignon Midkiff
Their customer service is exceptional, and they went above and beyond to ensure our tradeshow display was exactly what we envisioned. The final result was stunning and drew a lot of attention.
Lenny Prisbrey
We noticed a significant increase in foot traffic to our booth, thanks to the eye-catching design and vibrant graphics.Superb print quality, easy to assemble and sturdy.
Peter Jackson
The team was knowledgeable, responsive, and guided us in choosing the right tradeshow display for our needs. The final product was outstanding and received praise from everyone at the event.
Joao G.
Are your trade show booths easy to setup and assemble?
Yes, all of our trade show displays are simple to set up.
Take our pop-up displays, for instance. The clue is in the name – you just pop them up wherever you need them and essentially fold them back down to move them to the next event. We also offer modular displays, which are a tad more complicated, but offer a ton of flexibility so you can build your trade show exhibits however you want.
Can I design my own artwork for my trade show display?
Your artwork is the essence of the trade show displays we create.
Everything is customized, starting with you uploading the artwork (company logos, text, etc.) that you want to use for your display. We create a proof – a digital image of your booth – and you can make tweaks and changes until it looks perfect.
What kind of trade show booths do you have?
Beyond our pop-up and modular trade show booths, we also offer displays ranging in size from eight to 20 feet. And if you just want a simple tabletop display , well, we offer those as well.
What sizes do you offer for the exhibits?
Our standard trade show booths are between eight and 20 feet long. You can order them in eight, 10, and 20-foot increments, or work with one of our representatives to create a booth that fits your needs.
What is your delivery time after I place the order?
It depends on the delivery option you choose.
Starting from the top, we move your trade show exhibits into production once you've approved your proof. Production usually takes between three and five business days. It may take longer if you order several booths.
After completing production, we ship your trade show displays out using whatever shipping method you choose. Free shipping takes the longest (usually about 10 business days), but rush shipping is available that gets your booths to your doorstep in one or two days.
Do you offer free shipping?
We do!
Free shipping is available on every booth that we create, with the caveat that you must wait around 10 days for your booth to arrive. We use the fastest courier service available in your local area for our free shipping option. Plus, you get a tracking code – keep track of your trade show displays while they're on the road to you.
What other products do you offer besides trade show exhibits?
Beyond our trade show displays, we offer accessories galore.
Take flags, for instance. We sell outdoor flags and A-frames (essentially signs with flag material) that you can customize to match your trade show exhibits
That makes us a "one-stop-shop" for your trade show needs. You don't just get a booth. You get everything you need to transform that booth into one of the most spectacular trade show exhibits your clients will ever see.
Do you offer displays for outdoor events?
We offer several products for outdoor events, starting with our flags and A-frames. Both are easy to erect (A-frames stand up on their own when opened and flags have their own stands) so you can pop them up wherever they're needed.
You can also buy special "event tents" from us. Think of them as pop-up marquees – perfect for protecting your trade show booths from the rain. And, like everything else we offer, these tents can be customized with your branding.