Two Tone Mesh Air Baseball Cap
Price Chart
Product Description
FAQs
Real Customer Reviews
Our two tone mesh Air Baseball Cap is made of 100% polyester and perfect hat for any of your outdoor and indoor functions like ball games, dinner, movie theaters, and other outings.It can use for all the season.Mesh Air Baseball Cap is solid in color and adjustable. Bill is stiff and pre curved. Front two panels are constructed. 6 panels and low profile.These hats are worn by both men and women and comfortable to wear with casual outfits.

How can I customize my order on your website?
Just follow the 5 easy steps. First select the hat style, then the logo imprint style. Select the clasp, upload your artwork, and choose your desired delivery date. If you are having an issue placing the order, our Sales Representatives can help you via chat or phone call.
There are a lot of factories who can produce my product. Why would I choose you?
We have plenty of reasons why customers opted to have us to produce their orders. We have rapid production time, rich in experience and professional business, experienced and friendly customer service, the cheapest price you can find on the internet, and strong after-sales service, ensuring the rights of the customers.
What should I do if my artwork is not available yet by the time that I place the order?
You can still continue placing the order if your artwork isn't available yet. Just select "Email my Artwork" from the dropdown menu and send the artwork to us whenever it's available at sales@customhatsnow.com.
Do you give discounts to first time customers?
We don't just give a discount for first-time customers, you can always have the 10% off every time you place an order! Just use the SAVE10 coupon code upon checkout.
What are the payment methods accepted?
You can pay using credit cards, debit cards, checks, and even PayPal.
How can I pay if I chose Pay Later option?
The easiest way to make a payment is by clicking the Proof Approval Link. Once you approve the proof, the system will route you to our payment page. You can also call or chat with our friendly customer service associate to assist you with the payment.
Is my bank information required if I choose Pay Later option?
No bank information is required. The order can be canceled should the proof failed to meet your standards. Please note that we will do every attempt to keep the order by revising the proof until you are satisfied. If still doesn't work, we can proceed with the cancellation.
How will I know if my order has been shipped?
You will be notified via email once the order has been shipped which includes the tracking number.
I need my products very urgent, how fast you can produce it?
For most items, it will need only 3-5 days upon proof approval when in a rush. Depending on your items, our sales representative will check the schedule and get the fastest production time for you.
Do you charge shipping and handling fee?
Shipping is always FREE unless you want it on an earlier date.
Is there any set up charge?
No. We do not have setup charges. All the price lists are final.
Can I see the mock-up before I make a payment?
Yes. You can submit the order without payment by selecting the See Design Pay Later option on the checkout process. The digital proof will be sent to you within 30 minutes for your approval. Once approved, the order will be sent to production for processing.
Is it OK to use copyrighted or licensed material for my custom hats?
We do not knowingly reproduce copyrighted material and will not accept liability for such infringement when reproducing orders. You are solely responsible for ensuring the artwork you submit does not infringe on property rights by obtaining proper permission for the reproduction of logos, trademarks, and copyrighted material.
Can I return the product and get a full refund if I didn't like the outcome?
No. This is the reason why we are sending you proofs for your approval before we start the production. Approving the proof means that you agree with the design, colors, textures, etc.
How long should I wait to get a refund?
The standard turnaround time in receiving your refund is 3-5 business days. It is processed immediately but the financial institution may hold the fund for a couple of days before it's officially posted.
What happens if there is a mistake on my order?
When an error has been confirmed made by our production staff, we will process the remake exactly as how you originally requested minus any errors that we made at no extra cost.
What is the shipping time?
The shipping time may take 2-3 business days. All orders are shipped via priority shipping.
What is the production time?
Production time refers to the period it takes to make your custom hats order in our production facility. It usually takes 3-5 days depending on the volume. It begins upon proof approval and the time is based on business days, Monday through Friday, excluding weekends and holidays.
Do I need to create an account to check the order status?
No need to create an account to check the status of your orders. Our Customer Service Representatives are available to assist you with any of your concerns even the order status via chats, phones, and emails.
Is someone available to help me with my order?
Yes. Our friendly Customer Service is available 24/7 via live chat. It's just at the bottom right side of your screen. You can also call us at (855) 856-4070 or (281) 533-8932 for further assistance or email us at sales@customhatsnow.com.
What if I don't have an artwork and doesn't know anything about the designs? Are you creative enough to help me out?
We have expert designers who can definitely assist you in creating an artwork. Just provide your instructions/ideas on the box provided in Step 4. A proof will still be sent to you which requires your approval before we start the production. You can reject the proof if you feel like you are not satisfied with it by clicking the "Request Changes" button. Put your comments or additional instructions on how we can make it right, and a revised proof will be sent to you within 30 minutes.
Recent Customer Reviews
Overall Rating
4.8 out of 5 stars (based on 1720 reviews)
Loading reviews...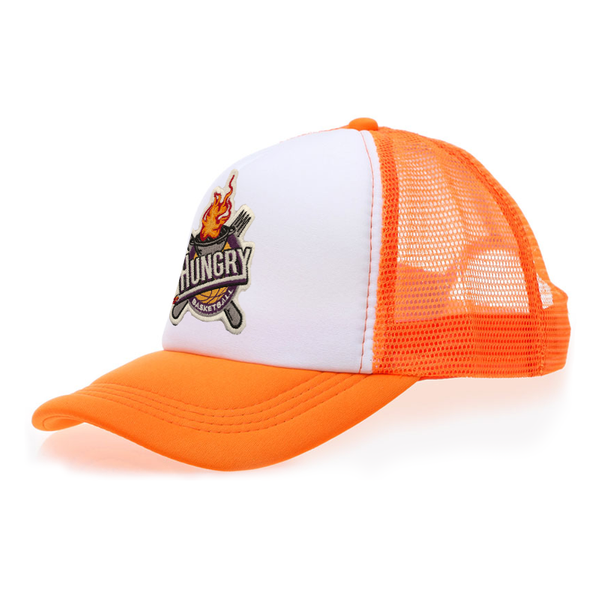 Step 1

Select Hat Style

Total Qty:

0

|Price: $

0.00
Two Tone Mesh Air Baseball Cap
13 color available
Baseball Cap with Adjustable Velcro
16 color available
6 Panel Acrylic Fiber Snapback Cap
7 color available
Kids Two Tone Baseball Cap
9 color available
Cotton Twill Sandwich Visor
7 color available
Step 3

Customize Your Hat

Total Qty:

0

|Price: $

0.00
Black and White
Light Blue and White
Red and White
Brown and White
Gray and White
Green and White
Hot Pink and White
Light Green and White
Orange and White
Pink and White
Purple and White
Royal Blue and White
Yellow and White
Please select a cap color.
Please select a imprint position.
Image requirement: Artwork Format as Follows :
The artwork should be less than 20MB in size.
You can send images in the following file types: BMP, GIF, PDF, PNG, TIF, and EPS.
Vector files like AI, EPS, PDF as well as high-resolution artwork has to be in a minimum size of 1000 x 1000 pixels and at least 300 DPI.
BEFORE WE START YOUR ORDER, WE WILL SEND A FREE DIGITAL PROOF OF YOUR CUSTOMIZED HAT.
Step 4

Choose Your Guaranteed Delivery Date

Total Qty:

0

|Price: $

0.00
Review your order
Two Tone Mesh Air Baseball Cap